Q-Series Panel Heaters

Highest power density output, with High-purity fused, translucent quartz face.
Face Options
Opaque quartz is the standard face on the Q-Series panel heaters. The properties of quartz make it a very efficient radiator of infrared energy. Both our expertise with infrared heaters and ability to fuse quartz enable us to be the only company in the world to manufacture this unique heater. The back of each fused quartz face is precision machined to hold the resistance coil. With the coils resting in the grooves, the coils are surrounded by three walls of quartz, effectively maximizing the energy output of the heater. A reflective insulating fiber board is added behind the heating element to direct the infrared energy forward through the quartz face. Double layer insulation is installed behind the insulating board to decrease back heat loss. Aluminized steel casings and welded stainless steel terminations are standard throughout the heater.
The orientation of the Q-Series heater must be controlled, and its heating elements are not cemented in place. Therefore, it is important to assure that the heating elements are not placed in a vertical orientation. That would eventually result in a slumping of the coils and a greatly reduced life expectancy.
Q-Series Specifications
The Q-Series heaters can be constructed up to 12″ (305 mm) wide and 12″ (305 mm) in length. The QH model has a maximum watt density of 60 watts/in2 (93 kW/m2). The Q-Series heaters have a durability defined by a typical life expectancy of 25,000 hours and a high radiant efficiency of 82%. Because the heater design does not depend on an external reflector, the heaters maintain a consistently high radiant efficiency over time. The Q-Series heat transfer rate for 60/in2 (93 kW/m2) is 6.04 btu/sq. ft./sec. delivered to the heating element.
Our QH model uses a very high purity 99.998% quartz. The QH model is often used for semiconductor applications because of the quartz's high purity percentage, temperature uniformity and ability to create unique shapes. The Q-Series heater is additionally used in several applications requiring high-intensity heat, such as high-speed drying and curing lines.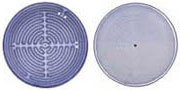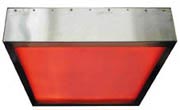 Q-Series Panel Heater Models: QH
Our Q-Series infrared panel heaters offer the highest power density output available in an infrared panel heater. High-purity fused, translucent quartz is used for the heater's face.
Features:
Grooved, fused, translucent quartz emitter surface plate (QH)
Precision-wound resistance wire
Heavy gauge aluminized steel frame
High-temperature, rigid refractory
Support angle to secure the quart plate in the frame
Refractory blanket insulation layer
Bulk insulation to minimize back heat loss
Ceramic bushings to insulate terminals
Stainless steel terminals welded for long life
Quartz thermowell tube (optional)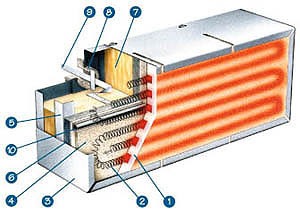 Q-Series Warm-up Curve
The warm-up curves are measured from heaters running facedown in open air. The thermocouple is located in a standard location inside a thermowell behind the coil. The curves will change depending on the environment and thermocouple location.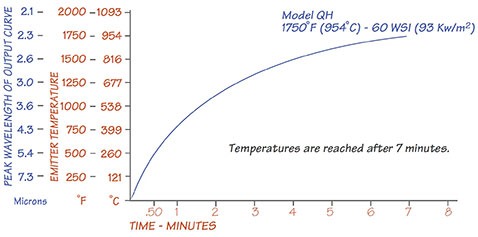 Housing
The heater's case or housing can be manufactured using aluminized steel or stainless steel. Additionally, in some cases the heater can be supplied without a case.
Aluminized steel is the most commonly used case material. It can achieve very high temperatures — namely 1200°F (649°C) — without flaking, discoloring or degrading; this assures that the heater's case will outlive the heater itself. The housing is typically riveted together. The rivets, along with slots in the heater case, permit controlled expansion and contraction during heat-up and cool-down processes. Some applications require the slots to be removed, which can be achieved for many engineering designs.
Stainless steel's advantages of enhanced cleanliness and a very polished appearance make it a good choice for food and semiconductor applications. Because the 304 grade of stainless steel will discolor at a lower temperature than aluminized steel, the 310 grade of stainless steel is often chosen for extremely high temperature applications. A stainless steel case is usually riveted together in the same manner as aluminized steel though there are some applications where the stainless case is welded and polished for superior cleanliness and cosmetic appeal. Additionally, those housings are usually supplied without expansion slots. This construction is typically implemented in our glass, koramic and quartz face heaters.
The last option, called board only, is to have no case at all for the heater. This heater is usually an F-Series model without the housing, insulation or pre-constructed panel design. Customers who have in-house sheet metal capability will sometimes choose to buy the heating element, fiber board, quartz fabric and cement as a completed assembly. The remaining components of the panel fall under the customer's responsibility. This approach shifts much of the heater's construction and warranty issues toward the customer.
Standard Dimensions
Width
(mm)
Length
(mm)
F
FBA
G
K
M
Q
6″
(152.4)
12″
(304.8)
18″
(457.2)
24″
(609.6)
30″
(762)
36″
(914.4)
X
X
X
X
X
 
6″
(152.4)
42″
(1066.8)
48″
(1219.2)
54″
(1371.6)
60″
(1524)
 
X
X
 
X
X
 
10″
(254)
4″
(101.6)
6″
(152.4)
8″
(203.2)
10″
(254)
 
 
 
 
 
 
X
12″
(304.8)
6″
(152.4)
10″
(254)
12″
(304.8)
 
 
 
 
 
 
 
X
12″
(304.8)
12″
(304.8)
18″
(457.2)
24″
(609.6)
30″
(762)
36″
(914.4)
X
X
X
X
X
 
12″
(304.8)
42″
(1066.8)
48″
(1219.2)
54″
(1371.6)
60″
(1524)
 
X
X
 
X
42″
or
48″
 
12″
(304.8)
72″
(1828.8)
84″
(2133.6)
 
 
 
X
72″
only
 
 
 
 
16″
(406.4)
16″
(406.4)
24″
(609.6)
 
 
 
X
X
X
X
X
 
18″
(457.2)
18″
(457.2)
 
 
 
 
X
X
X
X
X
 
24″
(609.6)
24″
(609.6)
 
 
 
 
X
X
 
 
 
 
Note: Solar Products specializes in manufacturing custom heaters that match a specific application. Listed above are standard heater dimensions.