Exciting News! ASPEQ has joined SPX Technologies to create an industry leader in commercial and industrial electric heat

We are pleased to inform you that SPX Technologies, Inc. has announced its acquisition of ASPEQ Heating Group ("ASPEQ"). ASPEQ will become a part of SPX Technologies' HVAC Heating platform, within its electrical heating business, along with Marley Engineered Products (MEP). The process of integrating ASPEQ into SPX begins today, and we are very excited about the opportunities this transaction represents for our customers and partners as we create the industry leader in commercial and industrial electric heating.
A winning combination.
The combination of ASPEQ and Marley Engineered Products within SPX creates multiple opportunities to enhance new product innovation, provides access to relevant products and creates efficiencies for customers by sharing complementary resources. Clear product and geographic synergies and expanded engineering development expertise provide opportunities to innovate the next generation of heating solutions while strengthening supply chain stability.
Our Products
We are the largest manufacturer of custom infrared electric heaters for the OEM market. With over 60 years of innovation behind us, we deliver the most well-built and effective infrared heating solutions available on the market.
Our expertise in providing industrial process applications with high-quality infrared and quartz heater products is unparalleled. We don't make systems — we improve them. We specialize in building customized infrared heating systems that deliver the utmost in efficiency, productivity and reliability, bar none.
Our product offerings include a complete range of infrared electric heaters, such as quartz composite face heaters (F/FBA Series), opaque fused quartz face heaters (Q-Series), quartz tubes (T-Series), metal/glass face heaters (M and G series), revolutionary fast response medium-wave panel heater (V – Series) as well as a multitude of custom specialty heaters.
The Infrared

Heater Company
---
We are an innovative manufacturer offering many customized infrared electric heating solutions, including:
Quartz composite face heaters (F/FBA Series)
Opaque fused quartz face heaters (Q-Series)
Quartz tubes (T-Series)
Metal/glass face heaters (M and G series)
Revolutionary fast response medium wave panel heater (V – Series)
Specialty heaters for OEM and industrial applications
Quality Quartz Heaters & Infrared Heating Solutions
For A Range Of Industrial Applications
From medical equipment to automotive production, from electronics wiring to the semiconductor industry… The custom-built infrared heaters and quartz heating solutions produced by Solar Products, Inc. have been used in a variety of advanced industrial applications for over 60 years, including:
Thermoforming (sheet-fed, roll-fed, and rotary)
Screen Printing (flash units and dryers)
Electronics manufacturing (solder reflow and wave solder)
Paint and powder coating applications
Process manufacturing (paper, textile, and wood)
Glass tempering and bending
Automotive fiberglass production
Wire, cable and tubing production
Curing and drying
Carpeting
Foil
Composites production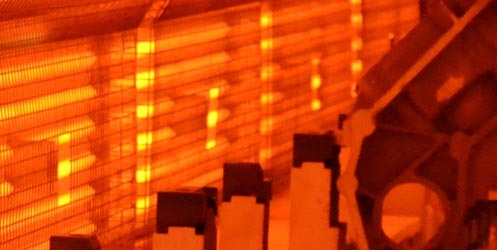 Custom Electric Infrared Heat