Case Study

Thomas Lighting
Thomas Lighting, a lighting fixture manufacturer, reduced energy consumption and drying time while using 68 percent less floor space.
Background
Thomas Lighting is a manufacturer of 2′ x 4′ fluorescent lighting fixtures used in commercial and industrial markets. Their fixtures are powder coated white polyester in the first stage of a fabrication process. During this stage, the powder is cured in a convection oven. In the second stage, two black stripes of paint are painted along each 4′ edge. The black lines are used for decorative purposes when return air grilles are designed into the lighting fixture.
The electric infrared oven achieved all of the goals for a new curing oven:
Faster drying and curing
Minimal floor space
Reduced maintenance requirements
Low energy consumption
Reasonable capital expenditures
Less time to heat up and cool down
No products of combustion generated
Advantages of using infrared for this application

Floor Space
It was estimated that a 50′ long gas convection oven would have been required for this application. The infrared oven length is 16′. That represents a 68% savings in floor space.
Maintenance
A gas convection oven requires service several times per year, but the electric infrared oven requires virtually no service. Normal maintenance practices suggest that the electrical connections should be checked every 12 to 18 months. Since Solar Products' heaters have a typical life expectancy of 25,000 hours, Thomas Lighting can focus on other problems and not worry about the Conversion Processes' oven for a long time.
Line Speed
It is often thought that electric infrared is too costly to operate, but that statement is a misconception. This oven has a total power input of 96 kW but uses less than 45 kW in actual operation. At five cents per kW hour, that equates to $2.25 per hour to operate their infrared heaters. With 540 parts moving through the oven every hour, that is less than 1/2 of one cent per part for the drying and curing process. Even if we account for line stoppages and start-up, the cost per part will still not exceed one cent. It is often stated that the cost of energy for paint and powder applications is less than one percent of the product selling price. Surely that is true in this case.
The Coating
In the past, a high solvent-based paint was used for the black coating. The solvent-based paint was air dried for 24 hours. With EPA regulations in consideration, the decision was made to switch to a water-based latex coating for this black striping. After switching to the water-based paint, it was discovered that 24 hours was not enough time to air dry the coating. The decision was made to purchase an oven to help the drying and curing process.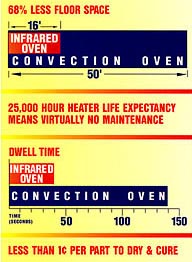 The Benefits
The customer had serious space limitations and was not able to have a shut-down to install a new drying and curing oven. After careful consideration, it was determined that an infrared oven was the right choice for the job. The new oven was designed with two separate halves. This construction enabled an installation that did not affect or cause any stoppages on the existing line. The infrared oven also requires 68% less floor space than a gas convection oven. The drying oven is only operated when black stripes are applied to the product, namely four days per week for six hours per day.
The customer did not want to have to wait for extended times while the oven heated up and cooled down; the infrared oven requires five minutes for heat-up and 5-10 minutes for cool-down. A gas convection oven requires much more time for both heat-up and cool-down. An infrared oven enables more flexibility in applying the black striping without affecting the complete finishing system. The oven was designed with electric infrared heaters that do not generate products of combustion. In this case, there was no requirement for an exhaust system. That meant no roof penetrations were required, and, therefore, no permits were required for installation of the new oven. All of these reasons contributed to the ultimate decision to go with an electric infrared oven from Conversion Processes Corp.
The Details
The oven consists of sixteen 12″ x 48″ Solar Products' F-Series panel heaters rated at 10 watts per square inch. The heated area is 4′ high by 16′ long. The oven design is single-sided heat with a metal reflector on the opposite side. The oven has one zone with the heaters operating at 850F. The part moves through the oven by means of an overhead conveyor and hangs with the 2′ side parallel to the ground. The paint is 1-1.5 mil thick and requires 40 seconds in the oven for the drying and curing process. The parts are moving at 24 fpm equaling 540 parts per hour. After cool-down, the parts are stacked in the final assembly area.
| | |
| --- | --- |
| Specifications | Part Details |
| Part description | 2′ x 4′ fluorescent lighting fixtures |
| Coating | Water-based paint 1 – 1.5 mils thick |
| Coating application | Automatic spray |
| Length of oven | 16′ long oven |
| No. of panels | Sixteen 12″ x 48″ – 4′ high, 16′ long |
| Oven type | Electric infrared |
| No. of zones | One zone operating at 850F |
| Heater type | Solar Products' F-Series panel heaters |
| Input power | 95 kW for the heaters |
| Actual power usage | less than 45 kW |
| Conveyor type | Overhead monorail |
| Conveyor speed | 24 feet per minute |
| Production rate | 540 parts per hour |
| Dry and cure time | (dwell time) 40 seconds |