A paper and plastic cup and plate manufacturer increased its line speed and reduced its energy consumption using our infrared panel heaters in its thermoforming units.
The Company
A manufacturer of paper and plastic cups and plates in business since the early 1900's that uses thermoforming units from Brown Machine Inc.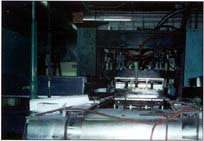 The Problem
The cost of operating the thermoforming equipment was decreasing profits. Several machines were retrofitted with gas catalytic heaters in an effort to reduce energy costs.
Why The Gas Catalytic Retrofit Didn't Work
Although gas catalytic heaters did achieve substantial energy savings over the existing calrod heaters, increased cycle times and a loss of quality control quickly eliminated the savings. Poor product consistency led to a decrease in quality control and a 10-15 percent increase in the rejection rate. The company was left with machines with a slow output that had limited uses.
Retrofit with Solar Products' electric infrared panel heaters.
Energy consumption was reduced by 35%. (The increase in line speed was not included in this savings).
Line speed was increased by 17%. (In fact, the line speed could be increased even more based on the heater output but is limited by an in-line proprietary process that completes the product.)
On a second machine retrofit, an energy savings of 50% still maintained the same line speed.
Product quality improved over the old calrod heaters.
The rejection rate decreased, as compared to the original calrod heaters.
Because of a zoning increase, there is now better control over the sheet temperature. The machine's operators find it easier to control. The temperature uniformity is so good that the company is experimenting with a thinner gauge material (styrene) that will offer increased material savings.
The outer heaters can be shut off when running a smaller mold. This increases energy savings.
Because of our ability to offer custom-sized heaters, the heater zoning was designed to precisely match the specific requirements of the company's machinery. The number of zones was increased from 6 to 13 to increase product quality while maintaining the maximum energy efficiency.
A lunch button was added to reduce the electrical consumption during break time by reducing the heater temperature.
The oven control system was designed in a cooperative effort between Steve Benjamin, Inc. and the customer to produce an oven that can hold a tolerance of 1oF in an open-air environment.